View and complete tasks
View and complete tasks on a job in the Skedulo mobile app
Overview
Tasks are items of work that need to be performed before a job can be completed. If any tasks are assigned to a job, they can be viewed underneath Notes in the Tasks section.
View tasks
To see if any tasks have been applied to a job, open the job in question and scroll down until you can see the notes section. Tasks appear below Notes, in the Tasks section.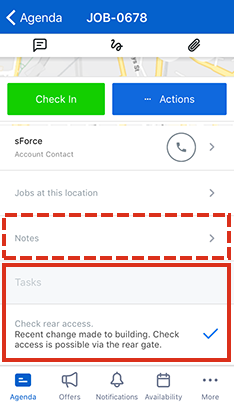 Complete tasks
To complete a task, a resource must tap on the related field in the job details. A blue tick will appear on the right side of the task to show that it's been completed. It is possible to toggle a task on and off, but all tasks must be checked (ticked) before a job can be completed.
Note
By default, tasks are mandatory. The admin setting, Consider job tasks to be optional, can be enabled to allow resources to complete jobs even when not all the tasks have been completed.
Related links
Feedback
Was this page helpful?