Confirm device compatibility
Check that your mobile device can run the Skedulo mobile app.
Overview
The Skedulo Mobile App is available for both Android and iOS(Apple) mobile and tablet devices.
For optimum performance and device compatibility, Skedulo recommends using Android and iOS devices that are less than three(3) years old.
Download 
Device compatibility
iOS (Apple)
Type

Supported models

Operating System requirement

Mobile
iPhone 7 or later
OS 14.0.0 or later versions
Tablet
iPad 5th Gen or later
iPad Air 2 or later
iPad Mini or later
OS 14.0.0 or later versions
Android
| Type | Supported models | Operating System requirement |
| --- | --- | --- |
| Mobile | All major Android devices released in the last three years are supported. The app is optimized for Samsung and Google Pixel devices. | Android version 8.0 or later |
| Tablet | Samsung tablets released in the last 3 years are supported. | Android version 8.0 or later |
Important
We highly recommend using the latest iOS and Android versions and staying up-to-date with version updates.  
No beta OS support
The Skedulo Mobile Application is not supported for Android or iOS beta version operating systems.
Checking mobile device compatibility
Users can check if their mobile device is compatible with the Skedulo mobile app directly from their device.
Open your mobile device's browser and open the following URL: link.skedulo.com/device.
Android permissions
Android 10 or later users must set appropriate permissions for the Skedulo mobile app to function correctly.
When users with an Android device running with Android version 10 or later install the Skedulo mobile app, or if location permissions have previously been refused, the following prompt explains how Skedulo uses location tracking: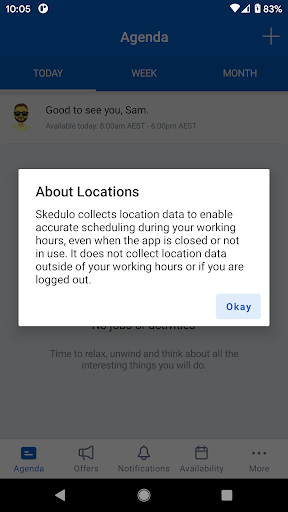 After clicking Okay, users should select While using the app when asked to provide permission to access the device location.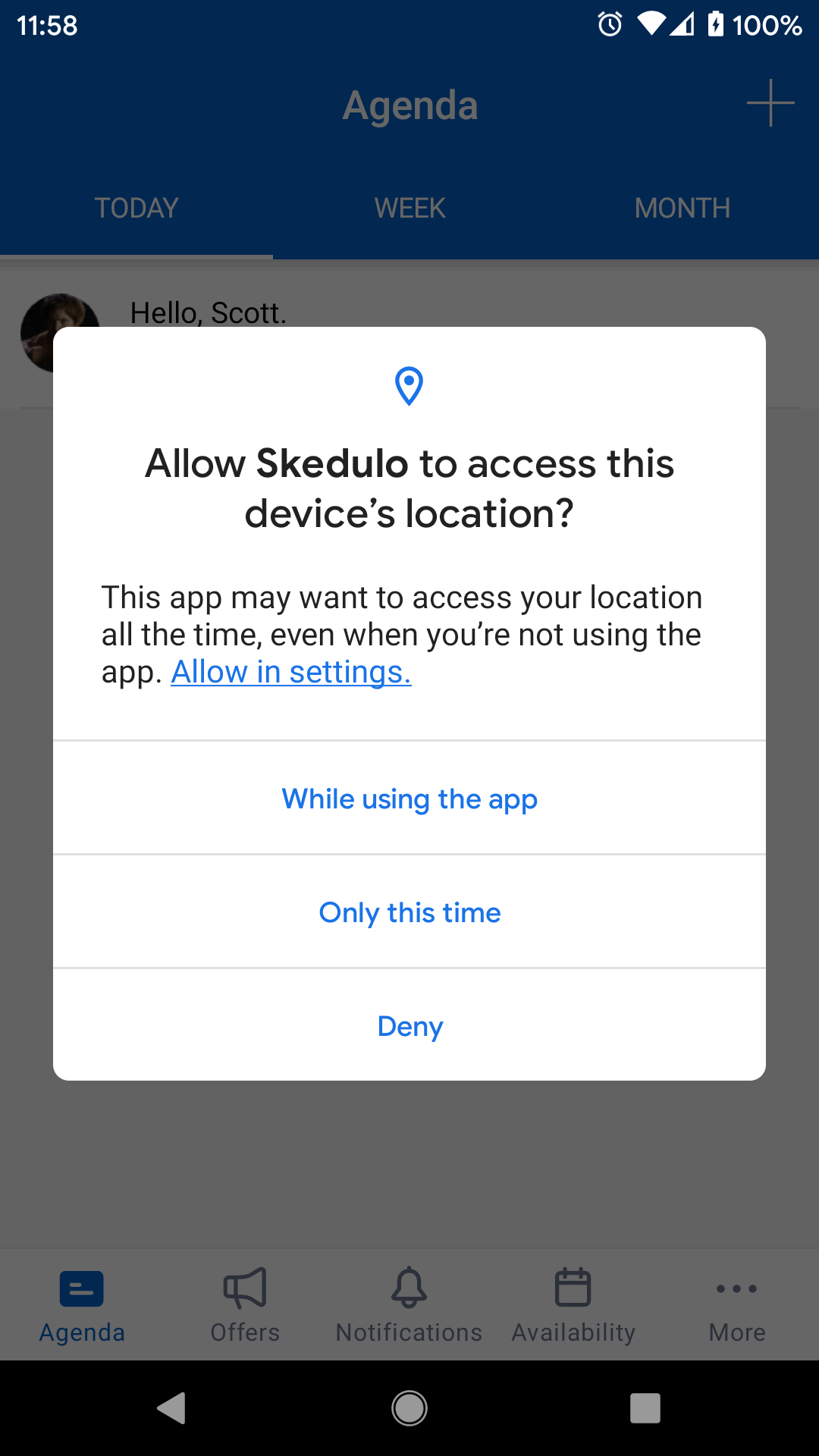 This allows location services to work while the Skedulo app is in focus. Skedulo also requires background location tracking to support en-route services.
An information screen explaining this is presented to users after granting initial location permission.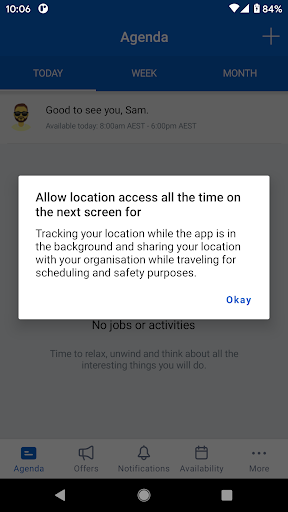 After clicking Okay, users should select Allow all the time from the next screen.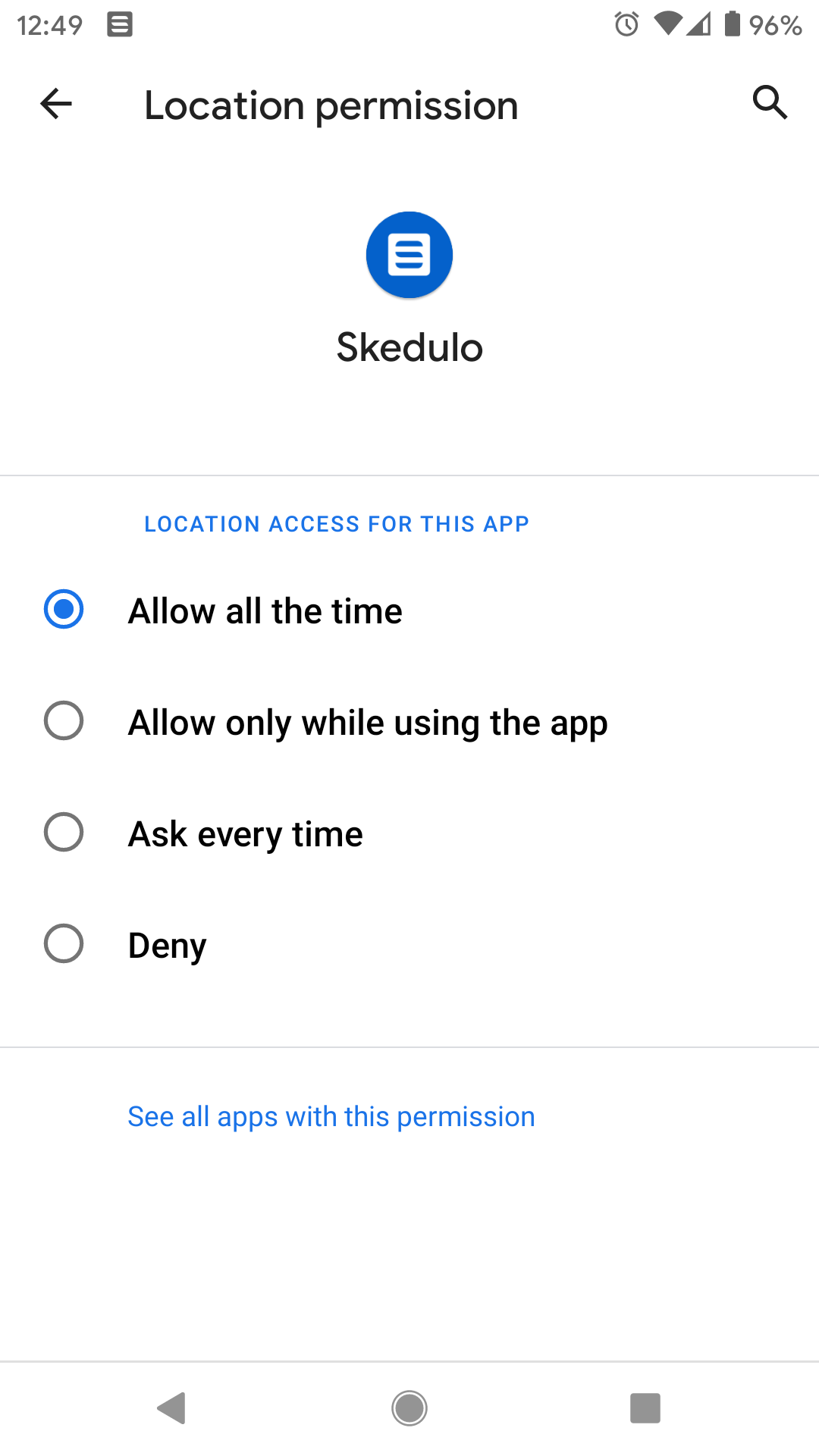 Selecting these permissions allows all functions in the Skedulo mobile app to work as expected.
Skedulo only tracks a resource's location during the time they are available, even when permission has been set to Allow all the time.
If permission is set to Allow only while using the app, the following Skedulo features will be unavailable:
Current location
Actual route
Geolocation on job status change
Improvements to privacy and security
To improve privacy and security, Skedulo no longer caches some information related to user identity in the mobile app.
The following information is no longer retained:
Username - the app no longer stores a list of usernames on the device, even if the Remember me option is selected on the Salesforce login screen.
Users must supply their username (and password) on each login.

MFA tokens - Users must supply an MFA authentication on each login.
This does not impact the frequency of user logins required.
Users only have to supply information after they have logged out.
Mobile device browser compatibility
For Android devices, we recommend installing and using the latest version of the Google Chrome web browser.
For iOS devices, Safari will do just fine. However, we recommend staying up-to-date with the latest iOS version.
Feedback
Was this page helpful?