View agenda and calendar
View your agenda and calendar in the Skedulo v2 mobile app
Overview
The Skedulo v2 mobile app's home screen is the Agenda, and it defaults to Today. From this view, you can see your day's itinerary, a summary of each job or activity, and the estimated travel time between them.
The agenda contains the following:
Tabbed calendar views for Day, Week, and Month.

A map with location markers for each job, and activity, for that day.

A personalized greeting and availability banner.

A timeline of your day.

A navigation bar.
Tapping on a job or activity card will take the user to the relevant details view.
Create a new activity or unvailability record
The blue header at the top of the agenda includes the Create new plus(+) icon.
Tap this button to create new activities(meal breaks, etc.) and unavailabilities (requests for time off).
Pull to refresh
To refresh or reload content on the agenda view (or any Skedulo view), swipe your finger down the screen (or drag down), then release.
Agenda
The map at the top of the screen provides routing information to jobs based on the following information:
Job start time–from the resource's home base address to the first job.
Job to job to finish the day back at home base.
If no jobs have been allocated for that day, then a message will be displayed.

Agenda icons
The following table contains a list of the icons that appear in the agenda.
Table 27. Agenda icons and their description.
| Icon/Label | Description |
| --- | --- |
| | Resource home location |
| | Next job |
| | Job type |
| | Account name |
| | Time spent on job |
| | Queued |
| | Pending allocation |
| | Pending dispatch |
| | Dispatched |
| | Ready |
| | En route |
| | On site |
| | In progress |
| | Completed |
| | Canceled |
| | Job urgency - Normal |
| | Job urgency - Urgent |
| | Job urgency - Critical |
| | Number of jobs today |
| | Finish |
Calendar views
Located just under the blue top bar are three tabbed calendar buttons. A resource can use these to locate their allocated jobs and activities within different time frames:
Today.

Week.

Month.
Both the Week and Month calendar views display blue dots under days that have allocated jobs or activities.
Tapping on a day with a blue dot on it will display the jobs allocated for that day.

Tapping on a job or activity card will take the user to the associated details view.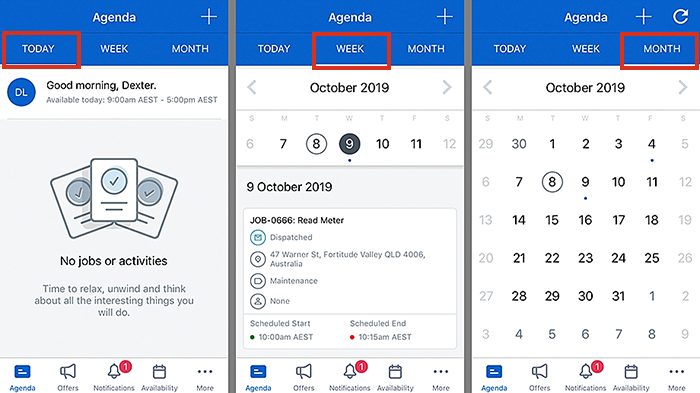 Viewing past and future jobs
By default, activities, and jobs can be seen for up to three months (90 days) in advance and three months in the past. These values can be changed (reduced) using admin settings. Refer to 
mobile admin settings
.
Calendar shifts
When a shift is assigned to a resource, the shift details will appear in Skedulo on the calendar (above the list of job cards for the day)–this is visible in both week and month views.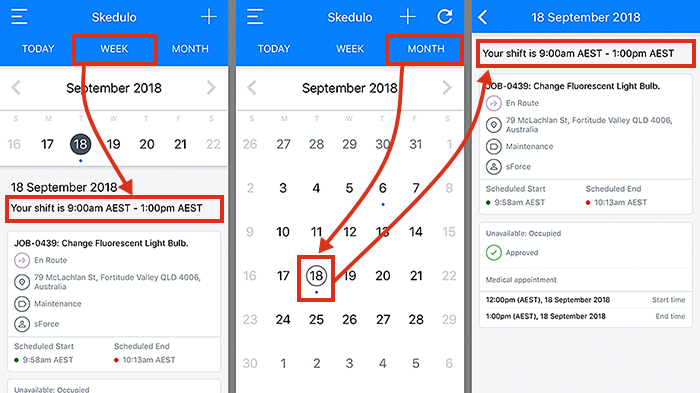 Note
Shifts
are only available for mobile users connected to the new web app.
Related links
Manage availability and unavailability
Feedback
Was this page helpful?