Feedback and support
Submit feedback or request support directly from the Skedulo Plus mobile app.
Important
The new Skedulo Plus mobile app is currently available to selected customers.
Skedulo mobile app users should refer to the Skedulo mobile app user guide.
All customers will be upgraded to Skedulo Plus over time. To find out when your organization will be eligible to upgrade to Skedulo Plus, please contact your organization's Skedulo Administrator or Skedulo Customer Success Manager.
Overview
Submit feedback or request support directly from the app.
Tap More then tap Feedback & Support to open the Contact us screen.
Provide as much information as you can about the issue you are experiencing so that our support team is able to troubleshoot what might be causing the problem.
(Optional) Tap the paperclip icon to attach any screenshots you may have that can help identify the problem.
Tap the submit arrow in the lower-right corner to submit your feedback and open a support ticket.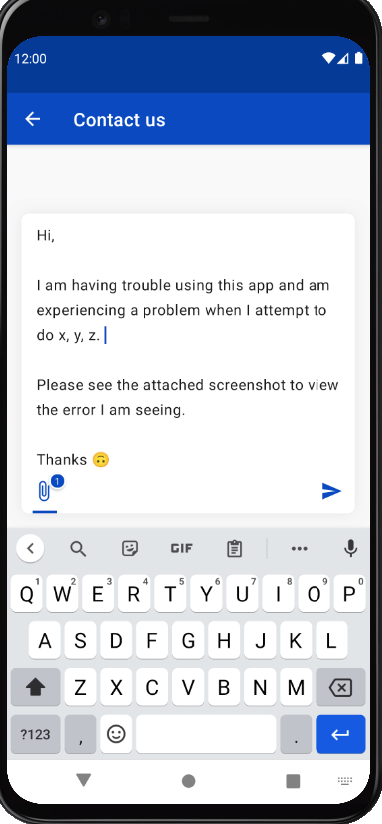 You will receive an email confirming that your support ticket is created.
To cancel the feedback report and delete the message without sending, tap the back icon in the upper-left corner next to Contact us and tap Delete on the Message not sent dialogue to confirm that you do not want to submit your feedback.
Feedback
Was this page helpful?