Log in using a Salesforce username
Log in to the Skedulo mobile app using a Salesforce username
Overview
To use the Skedulo mobile app, you must first log in and authenticate your CRM credentials. Your CRM administrator can provide you with the necessary credentials (your userid and password).
Important
Both your username and user profile are created, stored and maintained on your org's CRM (Salesforce for example). If you have a problem with your username or user profile contact your own CRM administrator, they can help you solve any problem.
If you have forgotten your CRM password, you can refer to the following article to help you retrieve it from your org's CRM: Forgot user password.
Log in using Salesforce UserId
If you do not yet use a team name to log in to Skedulo, tap Log in with Salesforce to log into the Skedulo web app. Alternative options are available via More options (e.g., Sandboxes).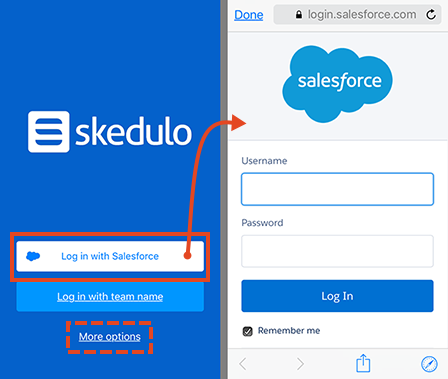 Subsequent Log in
Skedulo will remember you (i.e., your server). If you log out of the mobile app and log back in, you will be presented with a slightly different welcome screen. Tap your team name and follow any instructions to log back in.
Feedback
Was this page helpful?