Set up notifications
Set up Skedulo mobile app notifications
Set up notifications on the mobile device
When you first install the app on your device, you are presented with a pop-up question asking whether or not you want to receive notifications from Skedulo. This concerns your mobile's notification settings like banners, notification center and badges, which are all controlled by your mobile's general settings. These notifications are external to the Skedulo app, i.e., when the app is in standby mode, you can still receive notifications this way. However, if you close Skedulo (or log out), you'll not see any notifications until you next open the app and log back in.
In-app (once you are logged in) you will receive both a pop-up notification and you will also get a notification count on the main menu (next to the "Notifications" label).
If you do not allow notifications, the only indication you will see is a notification count on the main menu. You won't see any banners, pop-ups, etc. However, in the agenda view, if you refresh the page, you will see all new jobs.
Notifications remain in the notification view until you have confirmed the job.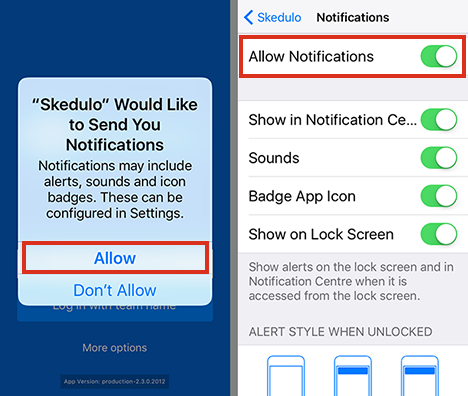 Related links
Configure and customize push and SMS notifications
Configure and view promoted Custom Field
Enable and manage proximity notifications
Feedback
Was this page helpful?