Import and update data
Overview
Administrators can easily import data into Skedulo from anywhere that supports CSV files.
Create an import task
To import your data, you must first create an import task.
To create an import task:
On the Data import/export page, click Create Task.
From the task menu, select Import.
Task details
Fill in the task details to specify whether you want to insert new or update existing records, and to specify into which object you want to import the records.
Select an Operation Type. You can choose to create new records or update existing records.

Insert — Select this option to create new records.
Update — Select this option to update existing records.

From the Object dropdown list, select the object into which you wish to import the data.
Click Browse and locate the CSV file you want to import.
Click Continue.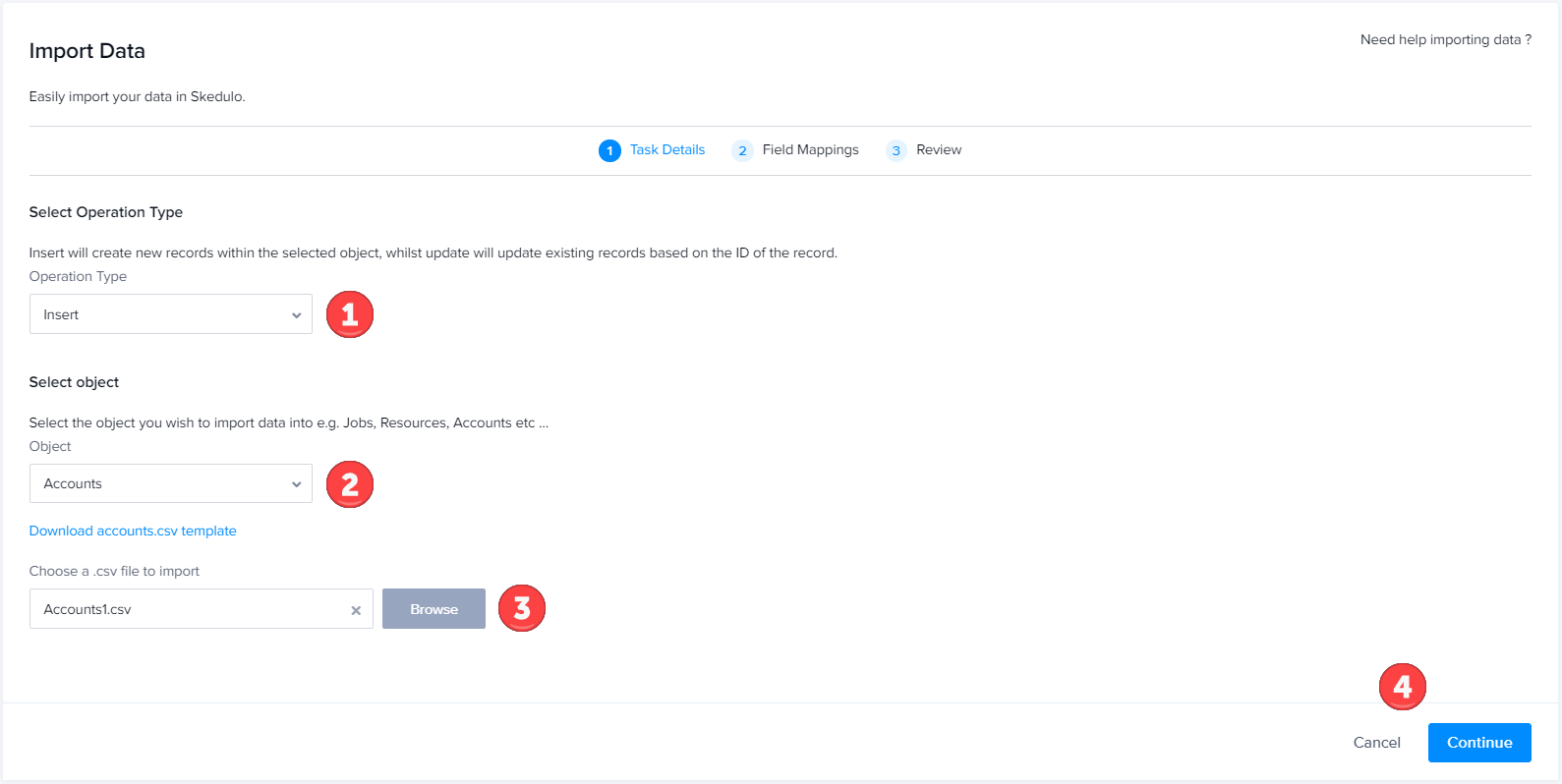 Field mapping
Map your CSV columns to your Skedulo fields. Fields are ordered based on the columns in the CSV file, and any fields that match existing Skedulo fields will map automatically.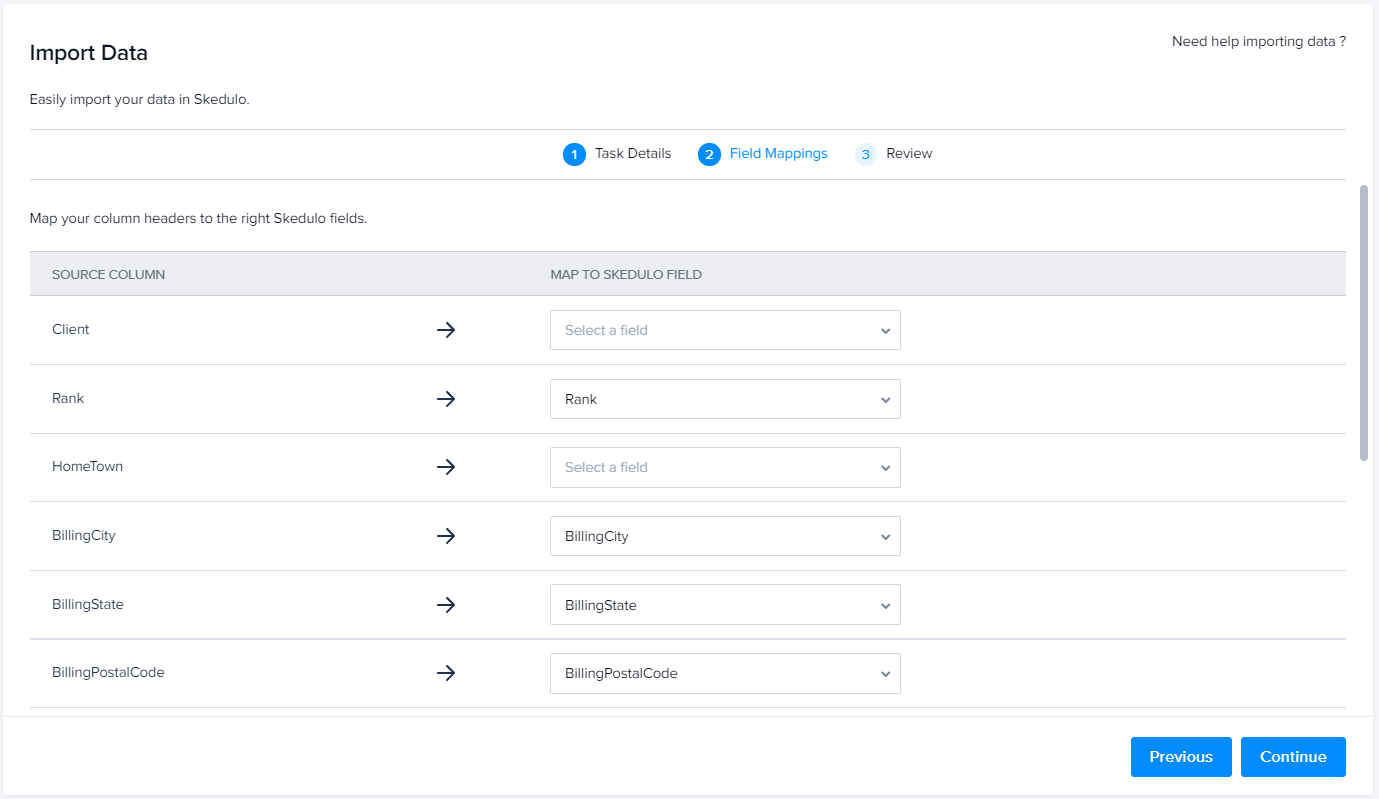 Use the quick find at the top of the selection dropdown to search through your Skedulo fields.

Review
The final step is the Review page, which provides a brief summary of the task details. If required, change the date and time formats, and select a time zone.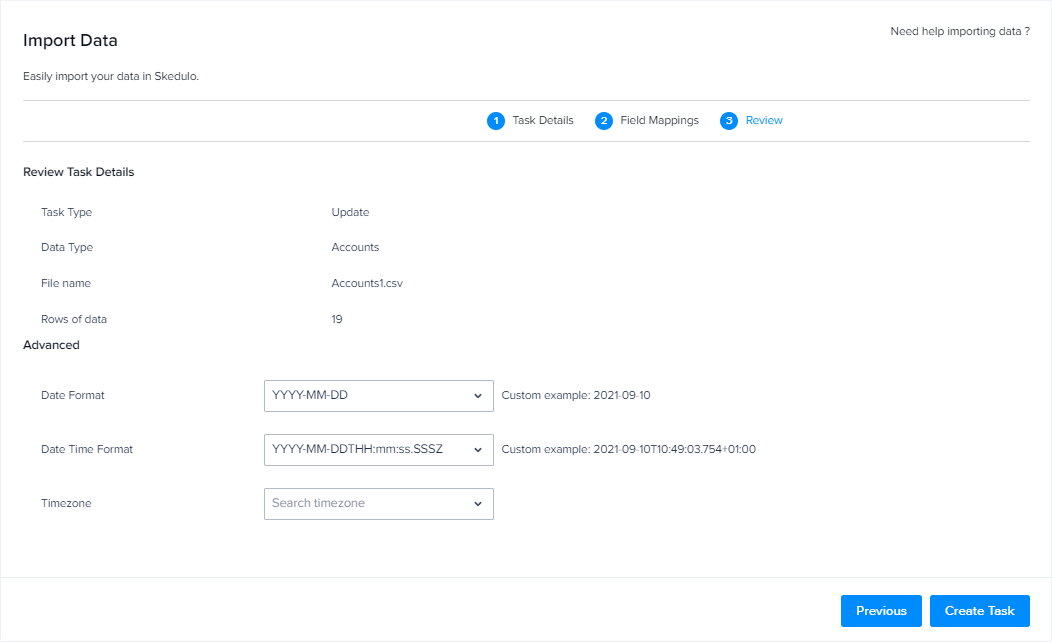 Click Create Task to save your task and run it immediately.
Update data
When updating data, you must provide the Skedulo record UID(s) you wish to update. 
There are two ways to locate the ID of a Skedulo record:
Run an export operation to retrieve object data (records). Each row in the export will contain a "UID" column which is the record ID.
Use GraphQL to query the object and return the UID in the response. To learn more about GraphQL queries, please see GraphQL queries.
Task statuses
| Status | Description |
| --- | --- |
| Processing | The task is running (importing or exporting data). |
| Completed | The task has finished running and all the records are processed (with or without errors). |
| Canceled | The task has stopped for one of the following reasons: an administrator cancelled the process; there has been a connectivity failure; or an unexpected issue has caused the task to stop. |
Feedback
Was this page helpful?
Glad to hear it! Please tell us how we can improve.
Sorry to hear that. Please tell us how we can improve.